General and Cosmetic Dentistry
Whether you visit Dr. Godlewski for a simple check up or for cosmetic treatment, she is always available to listen to you and any concerns or aspirations you may have for your teeth.
Accommodating You and Your Family
Our facility is designed to promote the highest quality oral health care with a focus on understanding what your expectations are and ensuring prompt and efficient care.
As a way to say "thank you", we offer our regular patients free teeth whitening every year.

We care about our patients
Free oral cancer screening for each patient every year. (Identafi)
Every year we offer each of our patients an oral cancer screening free of charge. Using a device named Identafi, we're able to spot early mucosal abnormalities that may be cancerous. Early detection means early treatment and a cure rate of nearly 90%.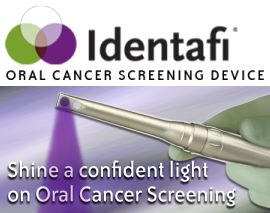 Family Dentistry
As a family dentist, Dr. Grazyna Godlewski is dedicated to offering dental care to a wide variety of patients. From young children to elders, we provide a full range of preventive, restorative and cosmetic services.

Laser Gum Treatment
In periodontal therapy we use diode laser to access an remove infected gingival tissue from around the root of the tooth. This procedure promotes healing and regeneration of bone tissue damaged by periodontal disease.
Free Teeth Whitening For Life
As a way to say thank you, we offer our regular patients free teeth whitening every year.
Implants
Dental implants are artificial roots that are inserted into the jawbone. Artificial teeth are then attached to implants to hold them into place. The implants are crafted from titanium, and are an alternative solution to bridges, partials or complete dentures.
Preventive Dentistry (Dental Cleanings)
Dental cleanings are done by a specifically trained and experienced Dental Hygienist or Dentist.
The hygienist or dentist's main goal is to prevent and treat gum disease by professionally cleaning your teeth. This is called "scaling and polishing". The hygienist or dentist will also show you the correct home care techniques to keep your gums and teeth healthy.
Composite Fillings (White Fillings)
White fillings are a mixture of plastic and acrylic materials and this type of filling is called a composite resin. Composite resins have a natural tooth-like appearance, which can be matched to your tooth's existing shade and can be used on all teeth in your mouth. Composite fillings bond directly to the tooth surface, reducing the risk of leakage. The aesthetically pleasing tooth is restored to its original function.
Root Canals
When a tooth becomes infected or badly decayed, one way to save it is by preforming a root canal. This procedure involves removing the pulp or nerve of the affected tooth and then replacing it with a rubber insert. A crown is then placed on the tooth to give it strength.
Night Guards
If you wake up some mornings and find that you have a headache, your jaw is sore or your teeth are sensitive or loose, you have likely been busy grinding or clenching your teeth all night long. You may have also noticed that your teeth are becoming smaller than they used to be. This is common and it's time to consider a night guard.
Sports Guards
A sports guard is an appliance that is prescribed to an athlete to protect his or her teeth from being damaged from a physical blow to the face or an accident. A sports mouth guard is usually made with a thicker material and given its purpose, it is made to extend to cover the entire jaw, even the gum tissue so that the entire mouth can be protected.
Cosmetic Dentistry
Cosmetic dentistry refers to dental work that is intended to improve a person's smile.
Dentures
Dentures are replacement teeth that are fully removable. Depending on a patient's circumstance, they may get one of three types: conventional full denture, immediate full denture or partial dentures. Conventional dentures are placed after any remaining teeth are removed and the gum tissue has healed. Immediate full dentures are inserted immediately after remaining teeth are removed. And finally, partial dentures rest on a metal framework that attaches to your natural teeth.
Porcelain Crowns
Porcelain crowns are tooth-shaped caps that are attached over a "damaged" tooth to restore its functionality or appearance.
Bridges
Like crowns, bridges are usually used as a replacement for one or more missing teeth. They are constructed from 2 or more crowns that have been fused together to make an artificial tooth. Bridges also help prevent your teeth from spacing out or shifting out of order.
Porcelain Veneers
Porcelain veneers are fine shells that coat the front part of a person's tooth. Their primary purpose is to enhance the tooth's appearance, and require a simple procedure that is often completed within two visits.